Sunday 9 September 2018 at 8pm.   £12 adv/£14 door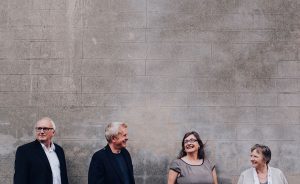 Narthen are Barry Coope and Lester Simpson of Coope Boyes and Simpson, Jo Freya of blowzabella/Moirai and Fi Fraser of The Old Fashioned/ Polka Works.
They have decided to become a group featuring songs that will touch your heart, engage your intellect and wow your ears. They are known for four part harmony, but they are all also instrumentalists and augment some of the repertoire with accompaniment.
They play, piano, accordion, fiddle, soprano sax, ukulele and whistles.